When you go to Nandos to scoff some chicken the key to a successful Nandos trip is to be comfortable in whatever you wear- at times tracksuit bottoms are ideal. However as my wife (or gaife aka gay wife) Nick was up for the weekend, I thought I would make some sort of effort purely as I haven't seen him in months.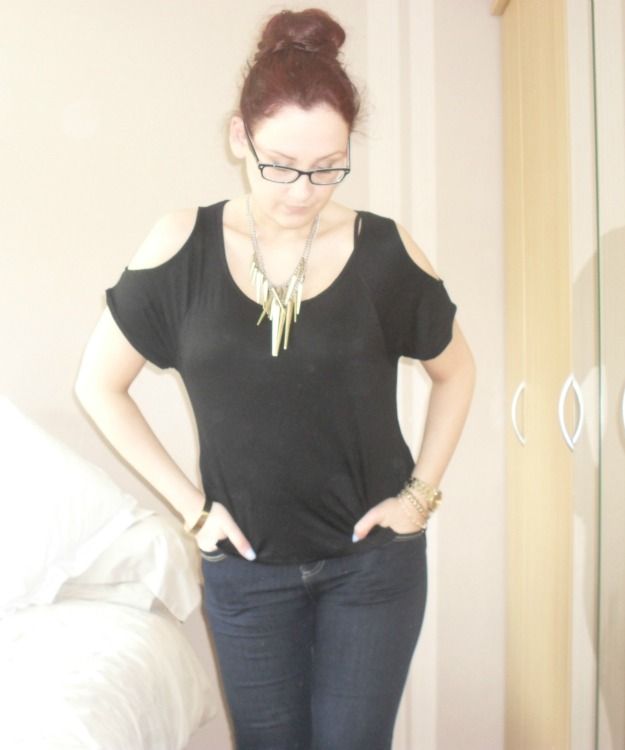 Glossy Doubleduty Circle Torque Bangle- OASAP (
link
)
Short Front Hem Open Shoulder Tee- OASAP (
link
)
Super Skinny Jeans- Primark
Recently I'd received some items from Oasap and I thought this would be the perfect place to wear them- casual yet dressy enough for an afternoon out. If you haven't checked out Oasap there are some little treasures to be found on that site. Currently I'm going through a right t-shirt and jeans phase at the moment, and if I could come to work in them I would, and this short front open shoulder tee appealed to me straightaway. I don't own a single black tee so I thought this would be a fab addition to my wardrobe. The sizing on their website is mainly one size and isn't as big as I thought they would be as I'm normally a size 10 on top (but I have been blessed with a huge chest).
The same can be said about the gold circle torque bangle I picked up. I chose the larger size as even though I have tiny wrists I have man hands- seriously they're huge, so bangles are a bit of an issue for me at times. This is actually too big for me, so I've been wearing it further up my arm. I've paired this with the Zara messenger bag which every blogger, their aunt, their long lost cousin and their next door neighbour has. I bought the grey version (Blogger has deleted my picture) and I've actually had this for well over a month now and will only use it if I go anywhere when I'm not at work as I don't want it getting dirty under my desk. If you have this bag I'd definitely recommend you spraying it with suede protector beforehand.